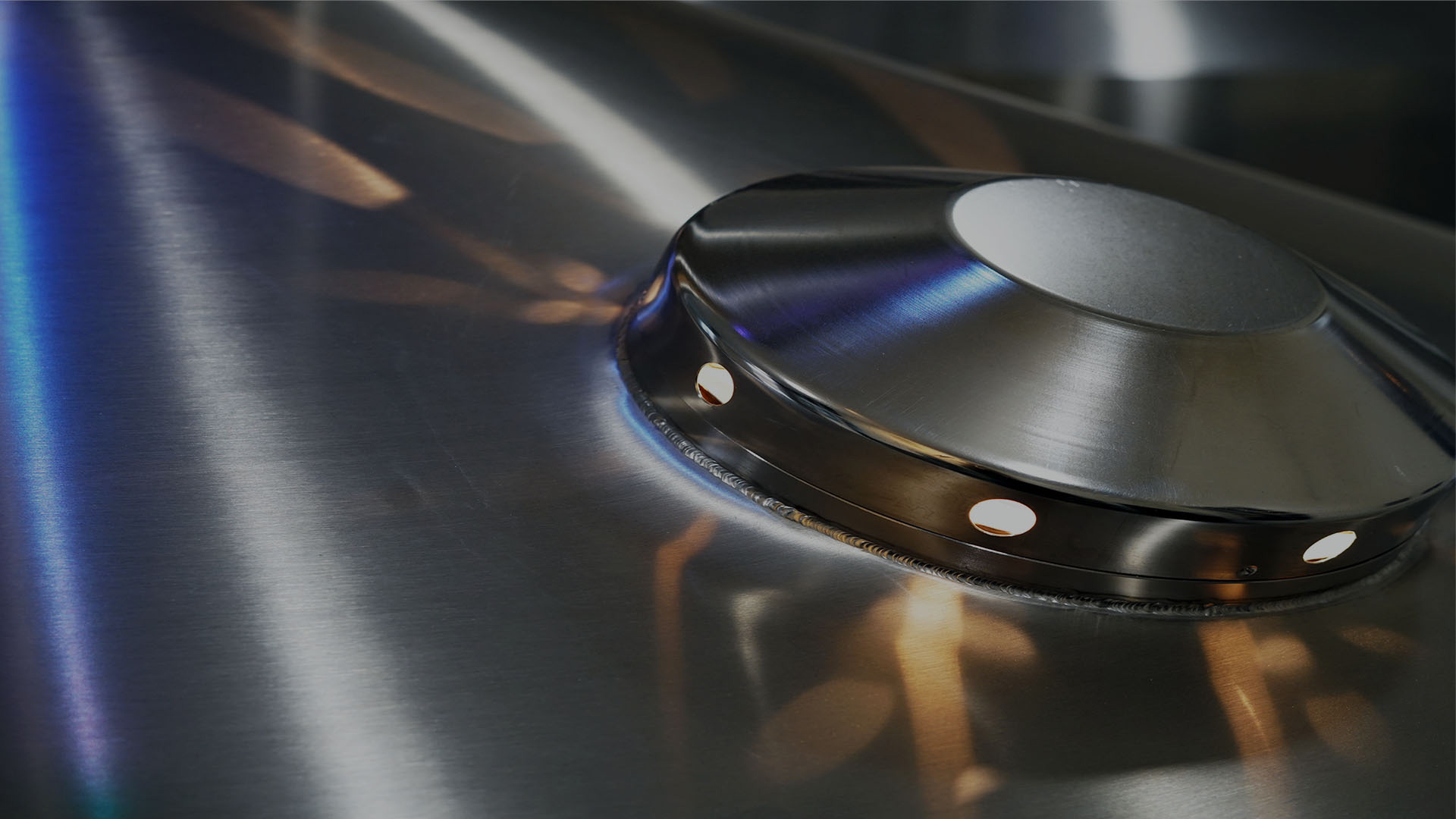 Kolosori Nickel Project (80%)
Overview
The Kolosori Nickel Project (PNM 80%) is an advanced stage direct shipping ore nickel laterite project progressing to development located on Isabel Island in the Solomon Islands. The project has several positive aspects including its close proximity to the coast, no processing requirements, low capital route to direct shipping ore production and local landowner support.
The traditional landowners of the area own 20% of the Kolosori Nickel Project.
PL 05/19, which holds the main part of the Kolosori Nickel Project is located at the southern end of Isabel Island.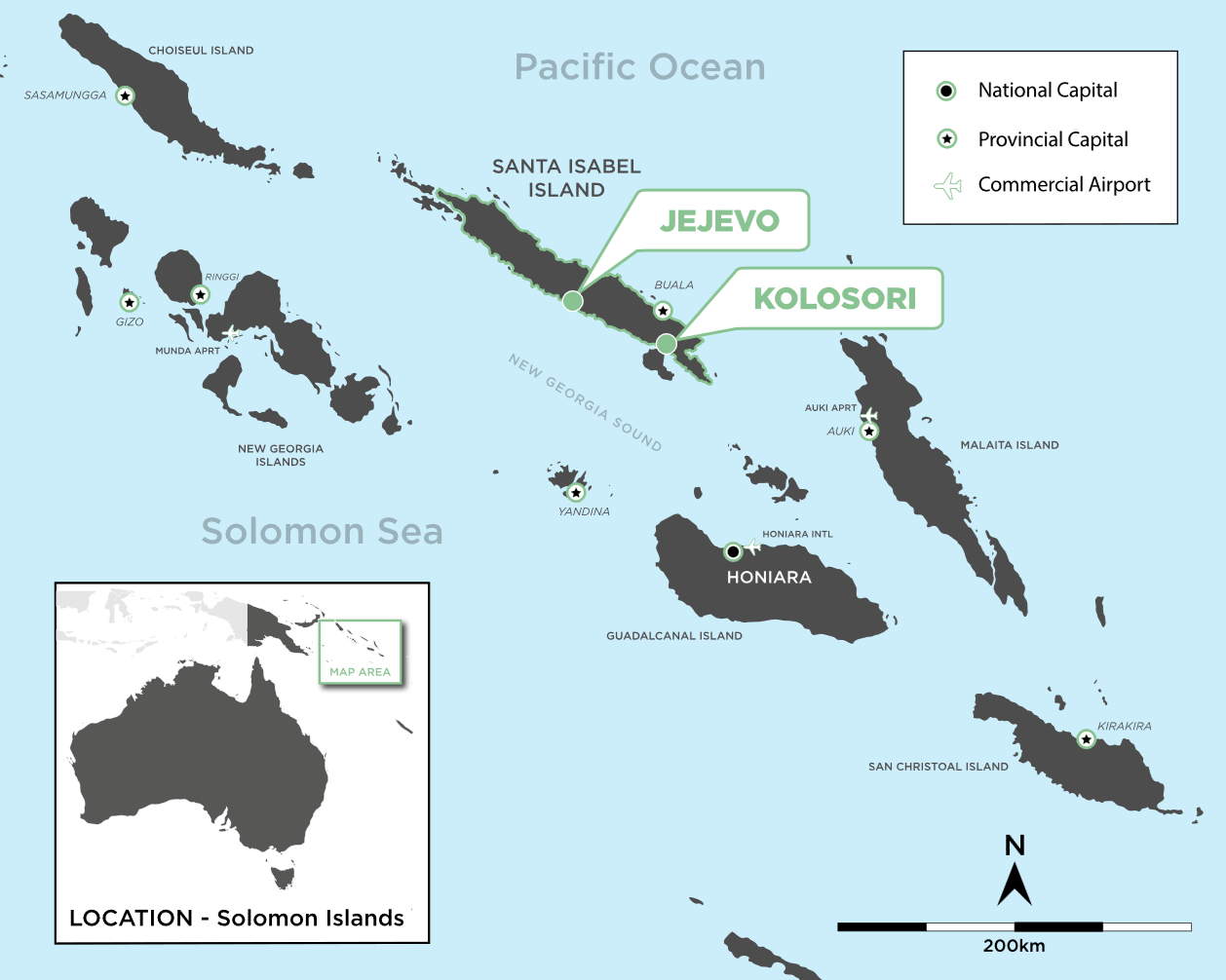 Development Pathway
Pacific Nickel mines is fast tracking the Kolosori Nickel Project into development, with a Mining Lease application being submitted, which is currently on track to progress through the required regulatory approvals by end of Q1 2022.
Development consent was received for the Kolosori project after a workshop and consultation with the various Government departments, stakeholders and landowners to review the Environmental and Social Impact Assessment prepared by the Company.
The Company successfully completed an Early Works program, which was designed to allow the Company and its contractors to establish a site base at Kolosori in preparation for the main construction phase which is expected to commence in Q2 2022 subject to appropriate Government approvals and funding.
The main components of the Early Works program included:
Construction of infrastructure including an access road, camp site and stockpile site;
Excavation of a test pit to assess mining and stockpile designs and to calibrate grade control methods;
Completion of a geotechnical assessment, including drilling, of the proposed nickel DSO loadout wharf site;
An assessment of the quarry sites to provide construction materials for wharf and road construction.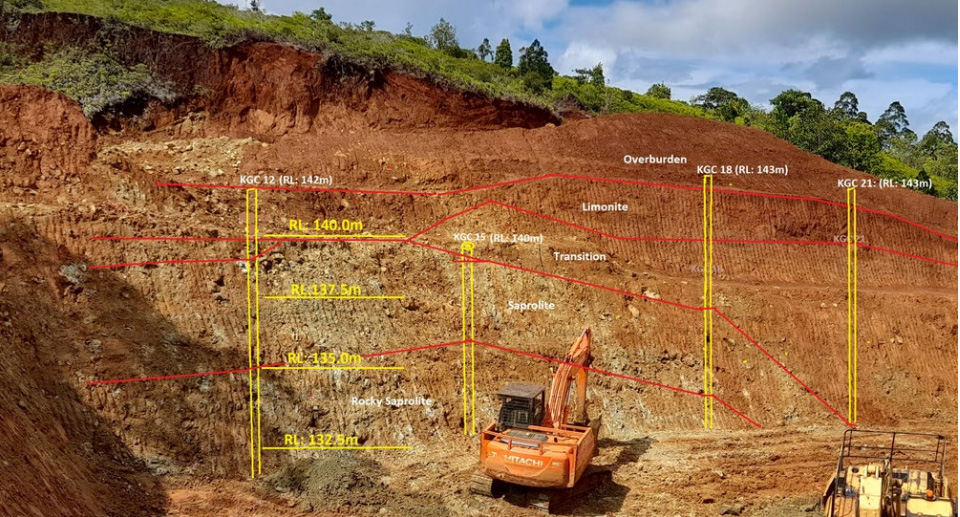 Test Pit with lithology and drill hole locations marked up.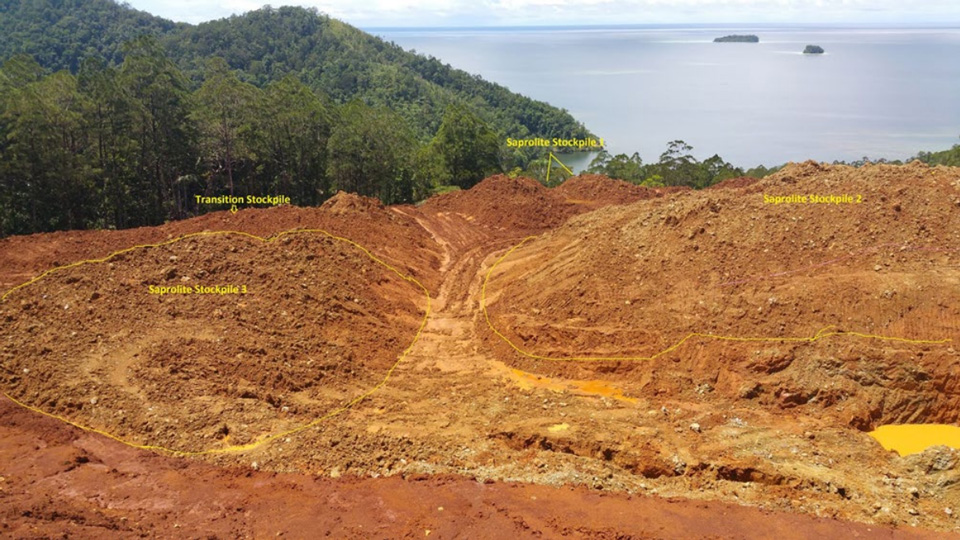 Saprolite on stockpile pad.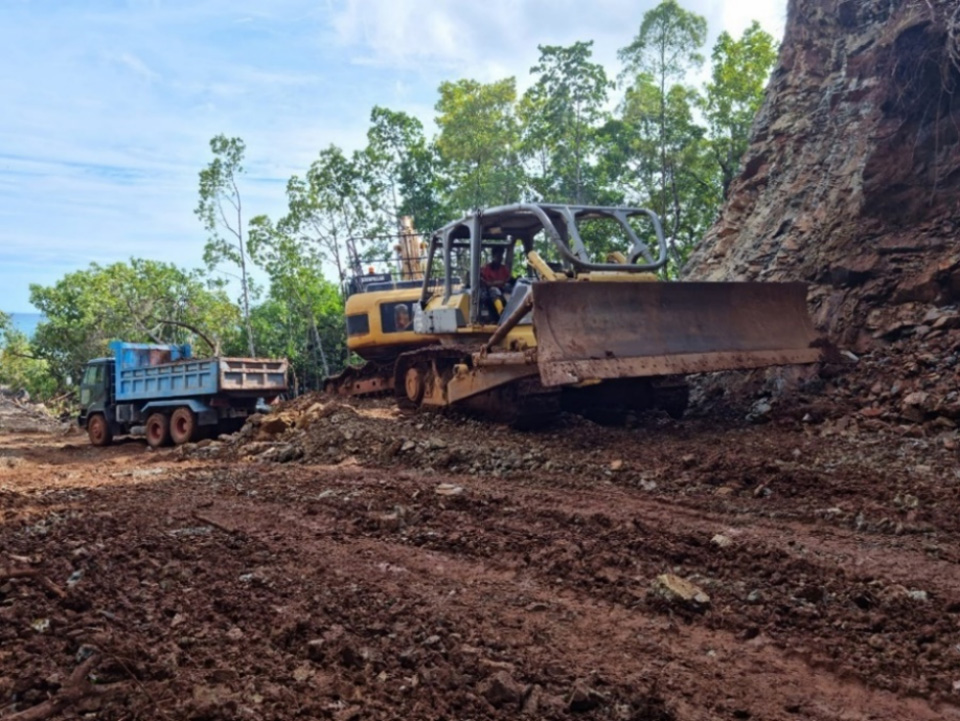 Preparation of road from temporary base camp to initial Test Pit site.
Development Drilling
The Company received assay results for 27 drill holes from the initial 83 hole program designed by Mining One for the Kolosori Nickel Project. The 83 holes program consisted of 11 holes for metallurgical test work. These holes were distributed across the proposed first mining area to ensure a representative sample. The other 72 holes drilled formed the first stage of infill holes designed to increase the confidence level of the current Mineral Resource in preparation for the development of the Project.
1.0% CUT-OFF
HOLE ID
FROM
TO
LENGTH
Ni%
HAK-S120
2
4
2
1.34
HAK-S132
3
13
10
1.75
HAK-S133
1
5
4
1.95
HAK-S201
1
8
7
1.04
HAK-S202
3
11
8
1.24
HAK-S203
1
6
5
1.43
HAK-S204
1
3
3
1.15
HAK-S206
3
6
3
1.39
HAK-S207
9
10
1
1.08
HAK-S210
0
3
3
1.36
HAK-S211
1
2
1
1.06
HAK-M06
5.5
13.5
8
1.51
HAK-M07
3
9
6
1.75
HAK-M08
2.5
14
11.5
2.10
HAK-M09
1.5
12
10.5
2.07
HAK-M10
6.5
11.5
5
1.27
HAK-M11
2
10
8
1.68
Kolosori Drilling Nickel Intercepts.
A second stage drill program of around 151 holes has been completed for the Kolosori Project. The second stage drill program was designed to increase the confidence in the resource to levels sufficient to allow detailed mine planning and reserve assessments to be finalised in support of the proposed project financing. Assays from this second stage drilling program are pending.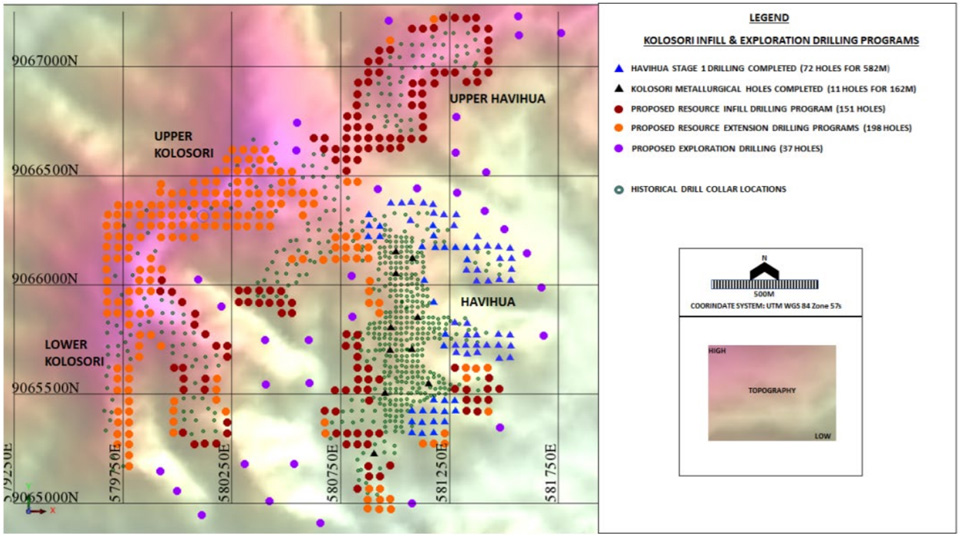 Initial Development drill program at Kolosori Nickel Project.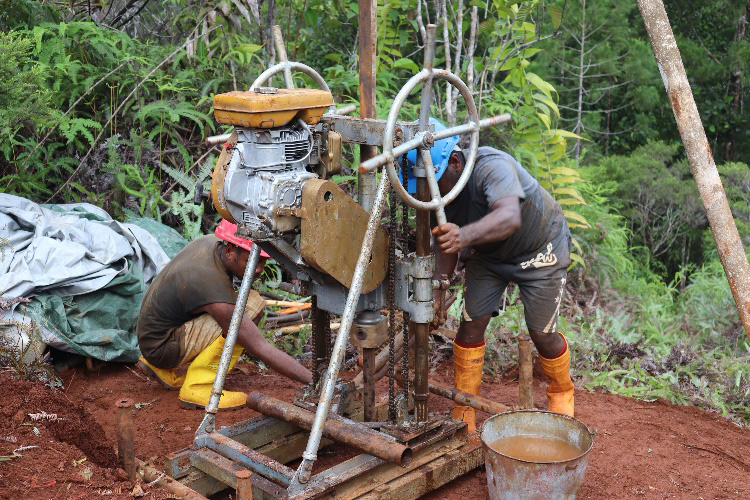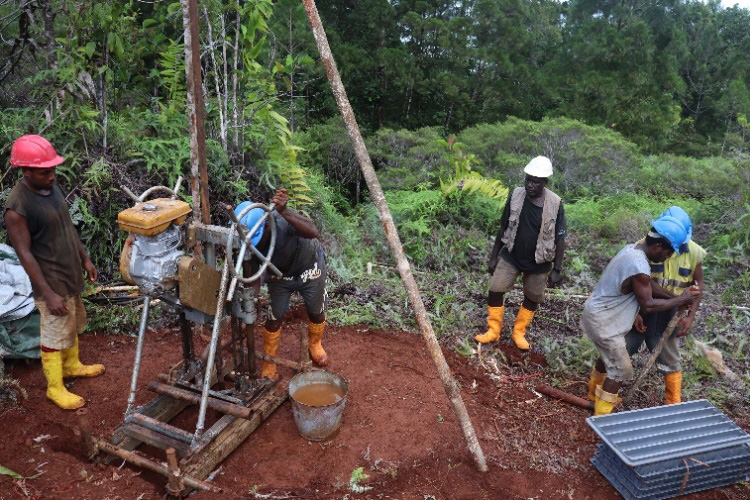 Drilling on site at the Kolosori Nickel Project
Definitive Feasibility Study
Resindo Resources and Energy Group ("Resindo") has been appointed to lead the feasibility study work and has advanced engineering studies on the Kolosori Nickel Project. Resindo will undertake an assessment of all project delivery components, general infrastructure and project logistics. The scope of Resindo's studies will also include DSO materials handling, construction requirements and project implementation.
The delivery of the DFS is largely dependent on the timing of the receipt of assay results from the Stage 1 and 2 drilling programs. These assay results will form the basis of a revised block model and an updated mineral resource estimate.
The Early Works program has also provided vital information for the DFS, including:
General suitability of the proposed mining equipment (including in wet conditions which may be encountered in the worst-case).
Confirmation that the ore and overburden are free-dig and will not require blasting, which matches with initial conclusions from the exploration drill holes.
Confirmation of preferred excavator and truck fleet requirements and associated data for the purpose of finalising aspects of the DFS and for ongoing discussions with potential mining contractors.
Kolosori JORC (2012) Resource Estimate
KOLOSORI JORC MINERAL RESOURCES > 1.0 % Ni
| | | | | |
| --- | --- | --- | --- | --- |
| LITHOLOGY | RESOURCE CATEGORY | Dry Kt ('000) | Ni % | Co % |
| TRANSITIONAL | MEASURED | 127 | 1.81 | 0.08 |
| | INDICATED | 583 | 1.52 | 0.07 |
| | INFERRED | 1,300 | 1.33 | 0.07 |
| | SUB TOTAL | 2,009 | 1.51 | 0.07 |
| SAPROLITE | MEASURED | 893 | 1.73 | 0.02 |
| | INDICATED | 2,264 | 1.48 | 0.02 |
| | INFERRED | 4,040 | 1.42 | 0.02 |
| | SUB TOTAL | 7,197 | 1.48 | 0.02 |
| TOTAL (M+I+I) | | 9,206 | 1.46 | 0.03 |
KOLOSORI JORC MINERAL RESOURCES > 1.2 % Ni
| | | | | |
| --- | --- | --- | --- | --- |
| LITHOLOGY | RESOURCE CATEGORY | Dry Kt ('000) | Ni % | Co % |
| TRANSITIONAL | MEASURED | 127 | 1.81 | 0.08 |
| | INDICATED | 469 | 1.62 | 0.07 |
| | INFERRED | 812 | 1.48 | 0.06 |
| | SUB TOTAL | 1,408 | 1.56 | 0.07 |
| SAPROLITE | MEASURED | 846 | 1.77 | 0.02 |
| | INDICATED | 1,833 | 1.57 | 0.02 |
| | INFERRED | 2,989 | 1.53 | 0.02 |
| | SUB TOTAL | 5,668 | 1.58 | 0.02 |
| TOTAL (M+I+I) | | 7,076 | 1.57 | 0.03 |