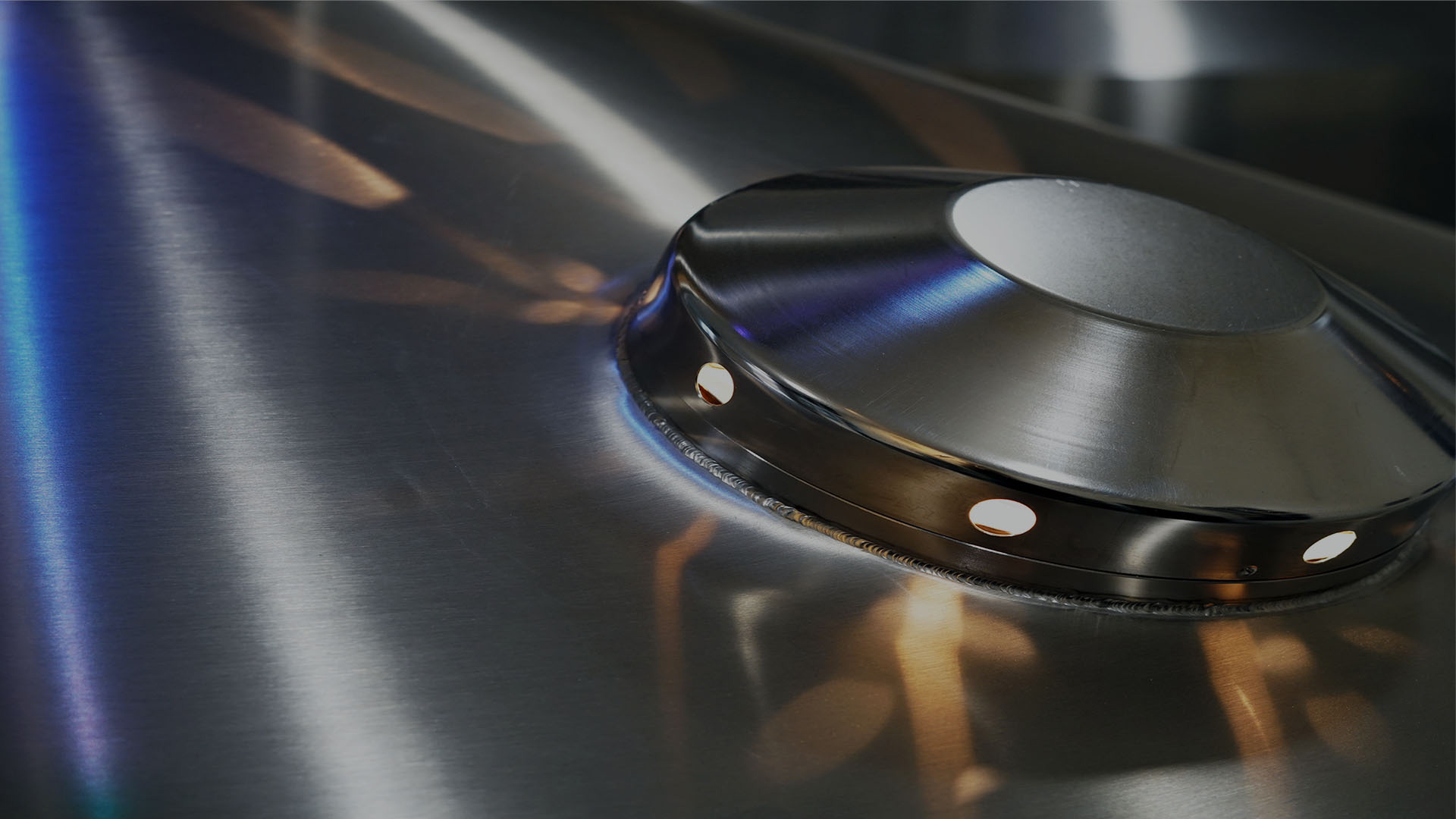 Jejevo Nickel Project (PNM 80%)
The Jejevo Nickel Project (PNM 80%) is an advanced stage direct shipping ore nickel laterite project progressing to development located on Isabel Island in the Solomon Islands.
The project has several positive aspects including close proximity to the coast, no processing requirements, low capital route to direct shipping ore production and local landowner support. The remaining 20% of the project is held by the local landowners.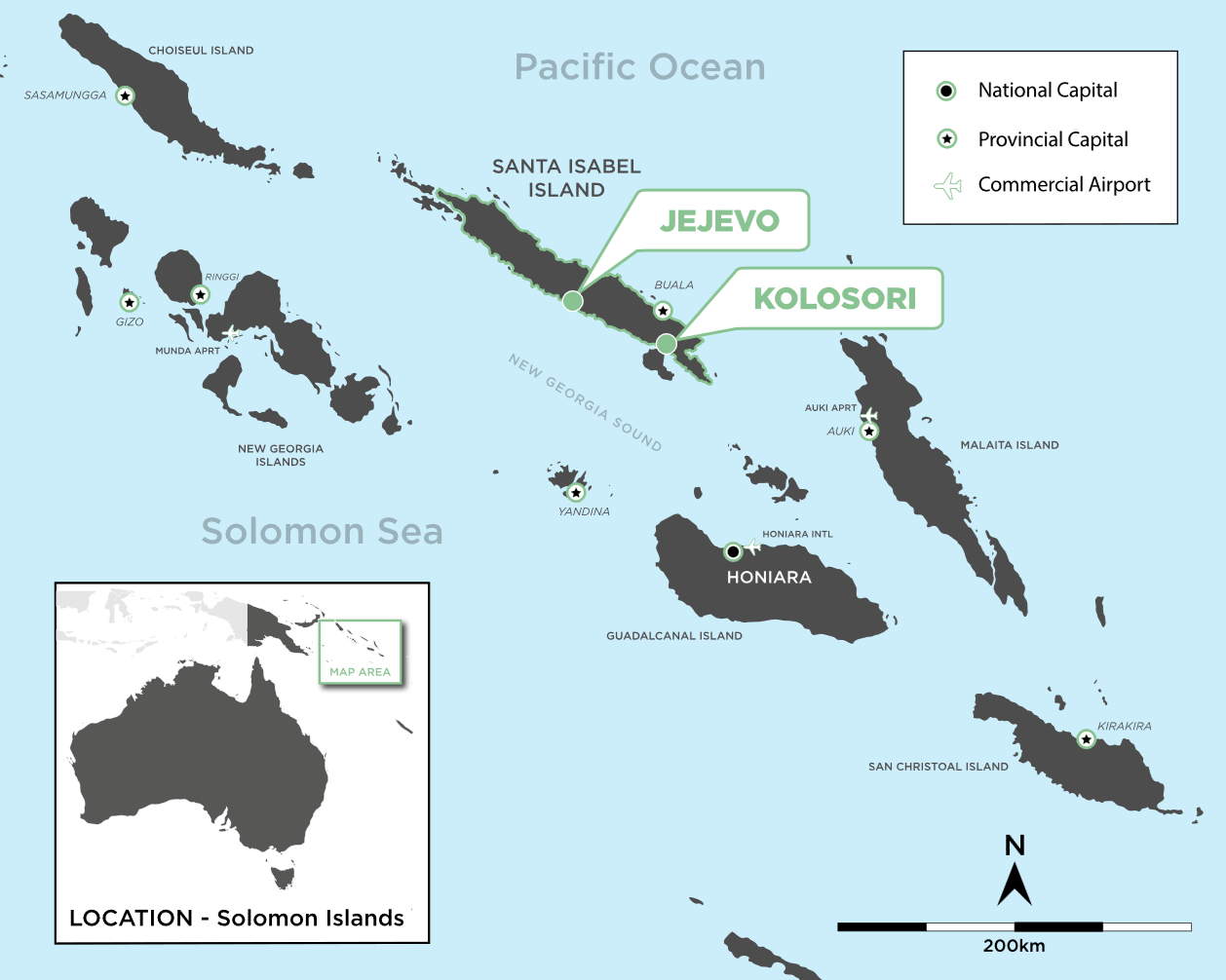 Current Work Program & Development Pathway
A near term Jejevo Exploration Target has been generated in the range of 4.9Mt to 6.6Mt at 1.4% Ni to 1.6% Ni within all domains (Saprolite, Transitional and Limonite). This Target range reflects a potential quantity and grade for Jejevo and is conceptual in nature only as there has been insufficient exploration to estimate a Mineral Resource. It is uncertain if further exploration will result in the estimation of a Mineral Resource.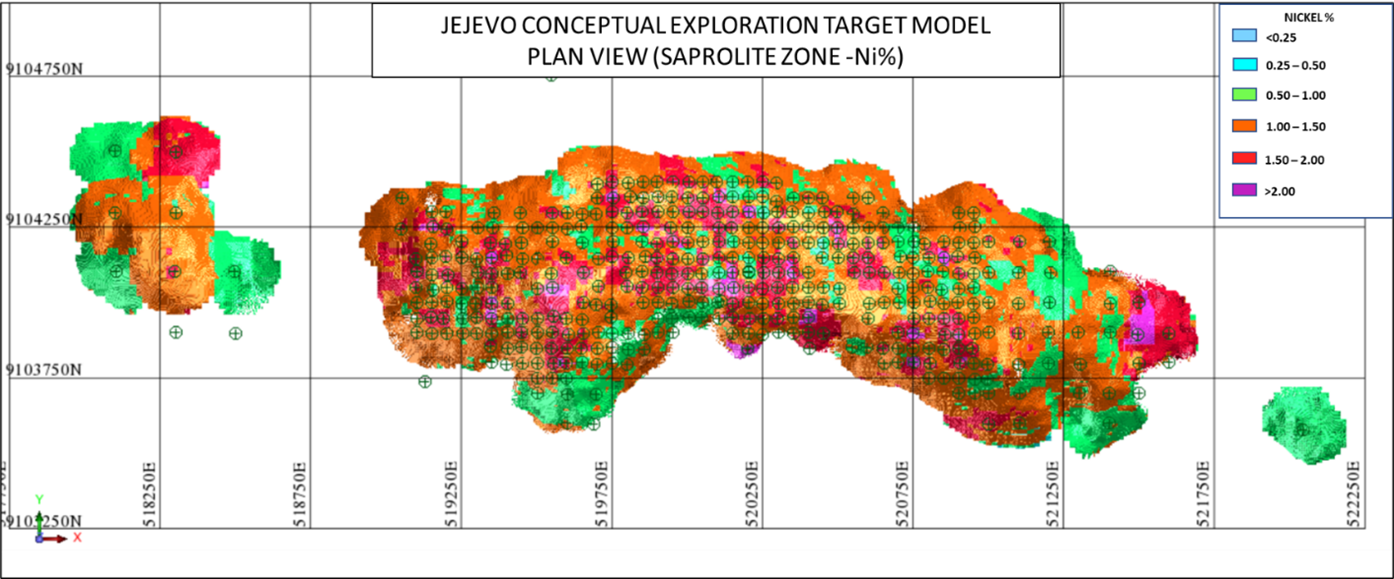 An initial 64-hole drill program was comenced at the Jejveo Project, which was designed to:
Confirm historical drill resource estimates.
Allowing Mining One to prepare an independent resource assessment; and
Provide metallurgical samples for preliminary DSO marketing discussions.
The first batch of samples from the first twenty seven holes are currently at ALS in Brisbane, Australia. The drilling at Jejevo has been put on hold until clear title has been established for the PL. The Company expects this to be done in the near term.
The drilling program was designed based on a review of the historical drilling on the Jejevo tenement undertaken by previous owner Sumitomo Metals and Mining. Significant historical drilling intercepts include:
JSC030: 13m @ 2.04% Ni from surface, including 11m @ 2.18% Ni from 2m.
JSD049: 9m @ 1.98% Ni from 1m, including 6m @ 2.26% Ni from 2m.
JSD062: 12m @ 1.93% Ni from surface, including 9m @ 2.04% Ni from 3m.
There are also targets for future exploration programs that exist on ridges to the east and west of the currently defined Jejevo deposit.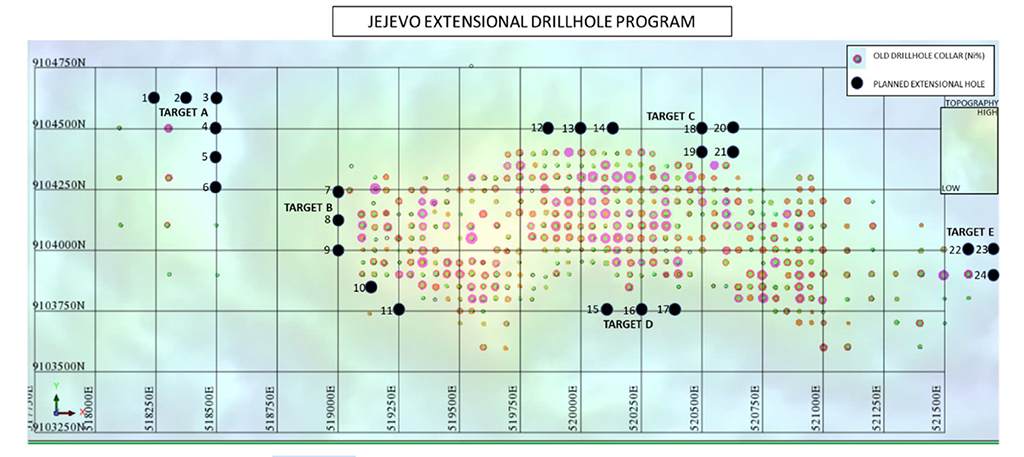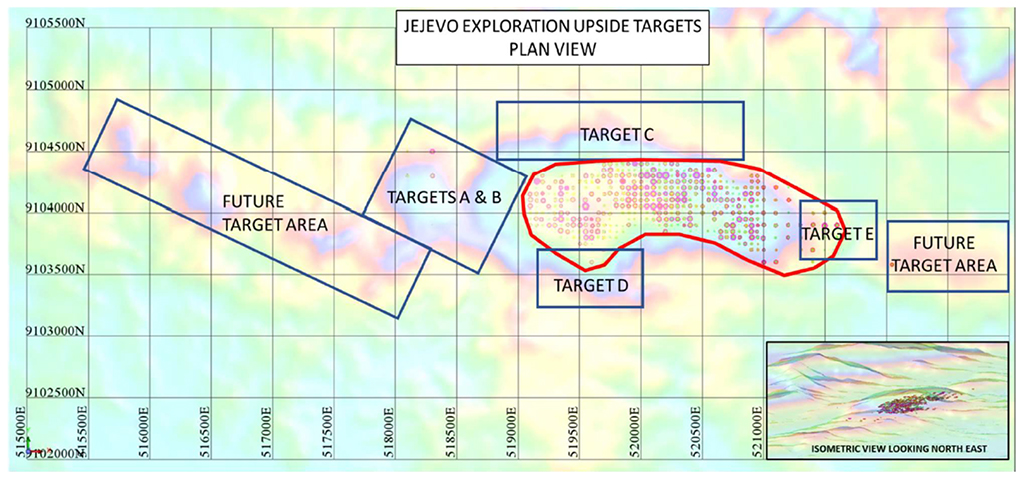 Jejovo JORC (2012) Resource Estimate
Jejovo JORC Mineral Resources > 0.5% Ni
Lithology
Resource Category
Kt ('000)
Ni %
Co %
Limonite
Measured
-
-
-
Indicated
2,079
1.06
0.14
Inferred
3,421
1.00
0.15
Sub Total
5,500
1.02
0.15
Transitional
Measured
-
-
-
Indicated
1,063
1.50
0.07
Inferred
1,320
1.33
0.08
Sub Total
2,383
1.41
0.08
Saprolite
Measured
-
-
-
Indicated
5,085
1.34
0.02
Inferred
5,093
1.19
0.02
Sub Total
10,178
1.26
0.02
Total (M+I+I)
18,060
1.21
0.07
Jejovo JORC Mineral Resources > 1.0% Ni
Lithology
Resource Category
Kt ('000)
Ni %
Co %
Limonite
Measured
-
-
-
Indicated
1,410
1.12
0.14
Inferred
2,070
1.07
0.15
Sub Total
3,480
1.09
0.15
Transitional
Measured
-
-
-
Indicated
1,051
1.51
0.07
Inferred
1,263
1.35
0.08
Sub Total
2,313
1.42
0.08
Saprolite
Measured
-
-
-
Indicated
4,482
1.40
0.02
Inferred
4,147
1.25
0.02
Sub Total
8,630
1.33
0.02
Total (M+I+I)
14,424
1.29
0.06
Jejovo JORC Mineral Resources > 1.2% Ni
Lithology
Resource Category
Kt ('000)
Ni %
Co %
Limonite
Measured
-
-
-
Indicated
249
1.27
0.13
Inferred
62
1.27
0.13
Sub Total
311
1.27
0.13
Transitional
Measured
-
-
-
Indicated
969
1.54
0.07
Inferred
911
1.43
0.08
Sub Total
1,880
1.49
0.07
Saprolite
Measured
-
-
-
Indicated
3,430
1.49
0.02
Inferred
2,200
1.40
0.02
Sub Total
5,630
1.45
0.02
Total (M+I+I)
7,822
1.46
0.04